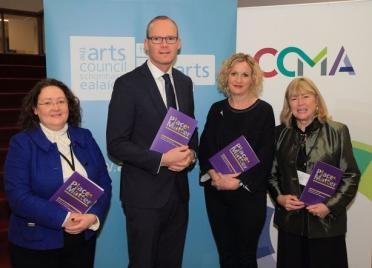 12 January 2017
The Arts Council and Local Government held a major joint conference on January 12th in Dublin Castle, exploring how public investment in the arts can help to build sustainable and cohesive local communities. Over 280 representatives from public bodies and arts organisations attended the event in Dublin Castle, which featured top speakers such as international culture expert Professor Geoffrey Crossick, Minister for Housing, Planning and Local Government Simon Coveney, and TCD Economics Professor John O'Hagan.
The event marks the inaugural conference of the Arts Council and Local Government of Ireland and is one of the actions arising from an historic 10-year agreement recently signed by both organisations to work more strategically together. The conference also aimed to build on the recent developments such as Culture 2025, Creative Ireland and the 1916 Centenary Programme and to explore how both sectors can chart a way forward to further imbed cultural and artistic development into policy and investment priorities.
Sheila Pratschke, Chairperson of the Arts Council said: "The conference is the first in a series of fresh, joint interventions with our partners in local government, which will support closer and more meaningful connections between communities, schools, hospitals, libraries, arts centres, and the artists who work in them. Following the centenary year, when cultural expression and citizenship were critical to the national response and programming of the commemorations, the conference will place the citizen at the centre of the discussion around Ireland's culture future. "Through 'Places Matter', we want to take a fresh look at demographics, geography, and access to new technologies, as well as the changing role of the artist in the light of new practices: each of these changes can, and will, impact on people, no matter where they live."
Minister for Housing, Planning, Community and Local Government Simon Coveney, added: "Arts and culture play a critical role in building bridges and bringing people together in a sustainable, cohesive way. To ensure that local communities can reap the benefits of investment in the sector, we must better understand what we mean when we talk about the value of the arts, and most importantly, how we measure its impact on society. Today's conference is an excellent opportunity to kickstart a conversation on these issues, and I am pleased there is now a formal structure in place which will enable us to pool the vast expertise, resources and knowledge of the arts and local government sectors so that it delivers more results for communities.
Picture: Anna Marie Delaney, Chief Executive Offaly County Council, Minister for Housing, Planning, Community and Local Government Simon Coveney, Arts Council Director Orlaith McBride and Arts Council Chairperson Shelia Pratschke.